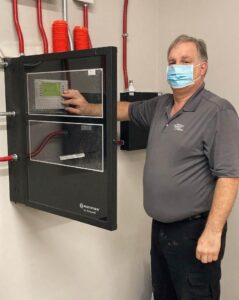 We feel it is important to recognize our crew that makes a difference on a daily basis. The difference not only includes their actual job performance, but how they support other crew members within their individual centers. Our Maintenance Director at Thrive of Fox Valley, Richard Hyzy, serves as the perfect example. Richard's enthusiasm is often described by others as infectious. One thing that Richard does, which never goes unnoticed, is his daily encouraging emails to the entire Thrive of Fox Valley team. Every single time the center is notified about an upcoming guest admission, Richard replies with excitement. He is appreciative for the opportunity to care for another guest and to introduce them to the Thrive rehab experience.
Now that you know this little detail, we decided to ask Richard a few more questions to learn more about his beginnings regarding his line of work and his current stint with Thrive.
Tell us about your background. How long have you been working in the maintenance field?
I started out in 1982 as a mechanic tech at my dad's repair garage in Chicago. I did this for about 4 years and learned a lot about mechanics. I then moved on from this into being a machinist for a parts store in Wheaton, IL. I also started my security background with Pinkerton in 1988. I am to this day a Licensed Armed Security Officer through the State of Illinois. I started my building maintenance career in 1988 as well. I had grown from overseeing one complex in Carol Stream to being in charge of three small properties. I was then hired on by a realty company in 1993 and worked at a property in Carol Stream that housed 275 units. During my career, I also worked for a nursing and rehabilitation center in Naperville as the director of facility services where I was in charge of maintenance, building safety & security, and housekeeping.
In addition, I went to school and became a residential and commercial building inspector in 2007. I am currently a licensed and certified inspector through the State of Illinois. I currently hold numerous certifications and continue to take online courses to keep my knowledge up to date on new tech and machinery.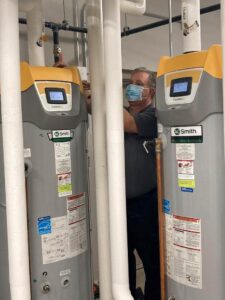 What do you enjoy about the job?
I enjoy repairing items and seeing they are working again. I enjoy helping others.
Is there anything that you feel potential guests and families should know about the center? Or any advice to give? Why do you think Thrive is a good place to rehab?
We have great nurses and therapists here at the Aurora facility. Our food is very tasty and selections are great. The staff here works very well together.
Is there something most people don't know about you? Any hobbies or interests?
I enjoy spending time with family, camping, hunting, helping my friends with projects around their houses as well as mine. During my spare time, I am right now adding two rooms to my basement—one bedroom and a craft/sewing room for my wife.